Here are my nails from the other day. The base coat is my Sally Hansen Miracle Nail Thickener. I totally love this stuff! It has made my soft bendy nails thick and strong! I have to apply it almost daily so I am changing my manicure every day or two.
The base color is a lime green franken I created. I know it's pretty, but it is not a nice formula, I consider it a failure, so I am not planning on sharing it with you all. No worries, better formulations will be forthcoming as soon as I can find a supply of empty bottles.
The tips here are China Glaze Four Leaf Clover. Pretty colour, and it goes so well with the lime. I top coated with Oh So Wet!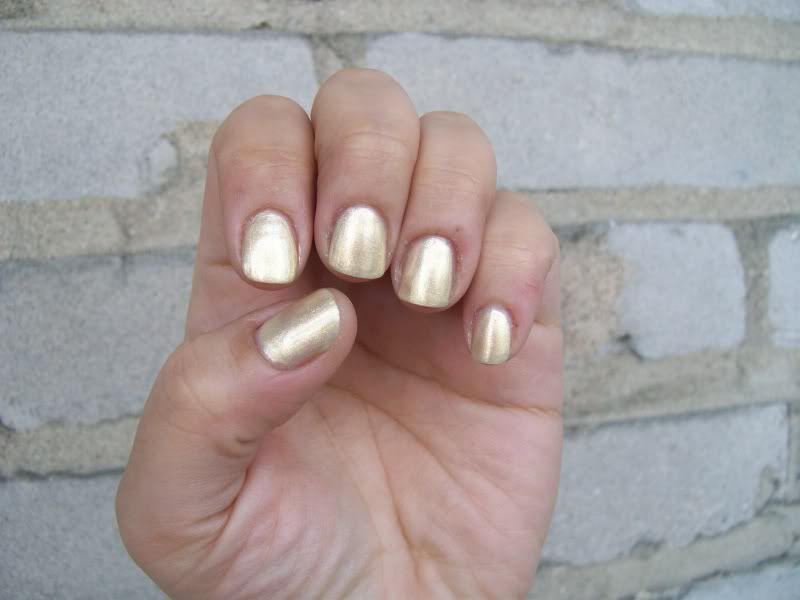 And here are my nails from today. This is my aforementioned base coat. Then two coats of Revlon Gold Get 'Em. This is a totally gorgeous color, and the formula is absolutely lovely too. Great application with very few visible brush strokes, which is really impressive for something this gleamy! I top coated with Seche Vite.
This is a silver toned gold. It is packed with tiny holo shimmer! You can NOT see it in pictures, but I am constantly staring at my nails trying to catch a glimpse of it.
I only wear my manicures for a day or two, but for today, the wear on this gold color is totally amazing, I highly recommend this polish!